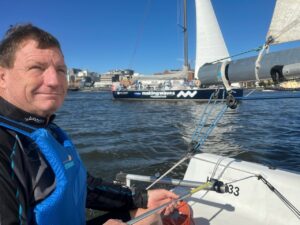 The NCYC Community Sailing program provides sailing experiences, sail training programs and volunteering opportunities to support not-for-profit community groups to become involved in the fun, excitement and social benefits that sailing can provide.
Through the Sailing Academy and the generosity of NCYC members & boat owners, we have proudly been providing sailing opportunities to the community for over 20 years.
This photo shows Community Sailing at it's best!  Front Line Sailing and Making Waves enjoying the waters of Newcastle Harbour together.